A RUOTA LIBERA: A celebration of artisan pizza, handmade bicycles and music - August 12, 2012
Second annual "free-wheel" event to be held at Una Pizza Napoletana, Sunday August 12th 2012 1pm-7pm
Una Pizza Napoletana and Soulcraft Bicycles invite you to spend an afternoon with a collection of passionate craftsmen as they showcase the fruits of their labor in the second annual "A Ruota Libera" -- Italian for "free-wheel" – a celebration of handmade bicycles, handmade Neapolitan pizza and live music. Doors to the event open at 1pm.
The annual event developed by Anthony Mangieri, founder of Una Pizza Napoletana, and Sean Walling, founder of Soulcraft Bicycles brings together a cross-section of the preeminent names in the cycling industry with a focus on bicycles, parts and components created in Northern California.
Anthony Mangieri will be working his pizza oven surrounded by exhibitors, including: Steve Potts, Bruce Gordon, Soulcraft, Black Mountain, Rock Lobster, Steelman, Hunter, Inglis/Retrotec, Falconer, Caletti, Frances Cycles, Black Cat, Paul Components, Ahrens, Pass and Stow, Rebolledo, Blue Collar, and White Industries. Handmade bicycles, parts and components will be on display around the restaurant for people to enjoy up-close and personally.
The event features an exhibit by photographer Brian Vernor and will be soundtracked by a live performance from San Francisco native and legendary Bones Brigade skater Tommy Guerrero. The Reveille Coffee truck will be on the scene to give a little extra boost.
"A Ruota Libera" is sponsored in part by Beer Moretti and Lambrusco Pronto wine. Doors open at 1pm and the show will close promptly at 7pm. Admission of $10 includes pizza, music performance and secure bicycle parking
"A Ruota Libera"
August 12, 2012 1pm
Una Pizza Napoletana
210 11th St (at Howard St)
San Francisco, CA
For more information: 415-861-3444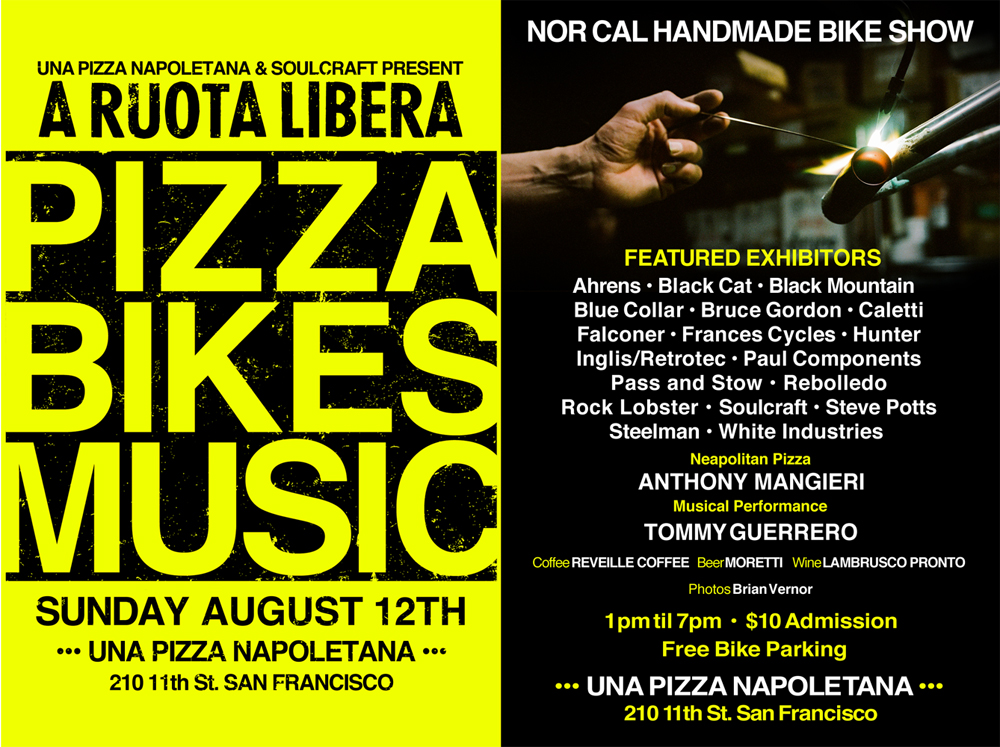 Announcing the Meet Your Maker Tour
The Meet Your Maker Tour is your invitation to ride and hang out with some of Northern California's best bicycle frame builders and component makers. No stuffy convention halls, no dim fluorescent lighting, just a good time hanging out and talking shop while we partake in the incredible road and mountain biking we are so fortunate to have around the Bay Area. If you're in the market for custom bike, come on out and talk to the local builders in person while we spend time doing what we really love, riding bikes!
Point your internet web site browser over to www.meetyourmakertour.com, follow us on the Twitter, the Facebook, and add us to your Rolodex(tm)! Whatever. We'll be riding bikes and you should join us!