Here Comes The Corn - June 2009
First order of business here is that we need your help. Our e-mail list is 10 years old and has tons of old/bad addresses which make us appear to many mail servers as desperate Nigerians every time we send out a newsletter. To remedy this, we need all of you to sign up again for the newsletter here. If you don't, you will be removed from the list and will not receive the next (or any) newsletter from us. This will help us set up a new database that will automatically manage itself. We appreciate you taking the time to help us out on this!

Thanks to everyone who ordered team clothing. The goods will be here in June and we will ship them ASAP. If you missed the boat on that, let us know so we can put you on the list if we do another order. Speaking of clothing, the cycling caps are here and looking sharp. We only have a limited number of this model so be impulsive with your money. We also have women's "Made in a Barn" T shirts back in stock, and we've added a girl's hoodie sweatshirt in light blue. The credit card bill always looks better with gifts for the lady on it. And don't forget about your poor kids. We have new T shirts for them too. Instant gratification can be had here.

You may or may not know that we make one of the best singlespeed chain tensioners in the business. It's called The Convert. It's rad. It also comes as a kit, if you wish, that has everything you need to turn your geared bike into a singlespeed. And we mean Everything. We are proud (and way behind the curve) to announce that we're now offering a cross kit. The kit is available with a 38t 130mm BCD ring and a 16t, 18t, or 20t cog. As always, all products we carry (except frames) can be ordered on our Goods page.




A couple months ago we started using these cool Pacenti brand stainless steel reinforcing pieces on the water bottle bosses of all our frames. In addition to looking fancy, they actually help distribute the stresses incurred on these mounts over a greater area, lessening the chances of cracks in the frame tube. This is welcome news to those of you who are still trying to figure out the complex workings of the bottle and cage relationship.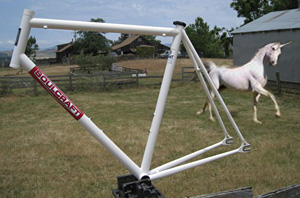 The "fun bike I built" this month was a fixed gear frame for Scott King in Austin, Texas. Nothing crazy, just a nice bike. It's got a barely sloping top tube, Pacenti track dropouts with stainless faces, and (gasp!) a rear brake! What a wuss! Actually, that's how I built mine too, so don't feel bad Scott. We're just smarter than most. He also wanted us to build a fork, which we did. We can't wait to see this baby built up! By the way, current lead times for frames is 6 months, so plan ahead.

The Golden Ruler
How do you measure yourself against other Soulcraft customers? By height and weight? How about by your moral superiority? What we mean is, did reading a Soulcraft frame review on a website help you decide to buy a Soulcraft? And after you got your Soulcraft, did you play it forward and post a review? No? That's like listening to NPR every day and never pledging money! Your second grade teacher would be very disappointed in you. To redeem yourself, we're asking Soulcraft owners to post reviews if that was a valuable resource that helped you decide to have us build your frame. Usually people go to MTBR.com, but you can go wherever you like. Of course, if you plan on giving us less than 5 stars, you might consider the guilt that comes along with that. Way worse than not posting at all.




For many years now, we here at Soulcraft have been fans and customers of White Industries. They started out in 1978, weathered the CNC boom of the early 1990's, and have become one of the premier manufacturers of hubs and singlespeed parts. While everyone else was gaga over big crank spindles with splines and freehubs for singlespeeds, these guys kept cranking out (get it?) parts that actually worked. Our team uses their hubs, bottom brackets, cranks, chainrings, and freewheels on all their singlespeed rigs. Speaking of chainrings, check out their new one piece chainring/bashguard. Tasty. With the new interest in all things urban, they are once again ahead of the game with their new fixed gear hub. Tell me that's not a better mousetrap! They've also got the nicest platform pedal you've never seen. A big thanks to Doug and Lynette at White Industries from the Soulcraft Team!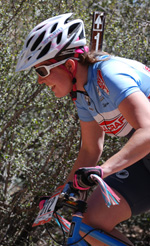 I love mountain bike racing, so much so that this year Iíve not only been racing the AZ state series, but I got a wild hair to put on a few events myself. What the heck was I thinking??!! This weekend is the 7th race in the state series, and weíve got the finals in June, both up here on the lovely trails of Flagstaff , and itís such an ungodly amount of work and stress that I have gained a newfound respect for race promoters. What with getting the permits, designing the courses, marking them, dealing with jerks who take down the markings, remarking the courses, setting up the venue, and cleaning up afterwards, itís a whole lot more work than I had anticipated.

Itís all worth it though, to race a course that is set up just right for me: long climbs (good for the hardtail), gnarly rock sections (good for sweet steel smoothness), and local folks cheering for ďthat Soulcraft girl.Ē

Stay tuned to the team blog for how me and my new Option 3 fare in the rest of the series, if all goes well I could be top 3 in the state among menís singlespeeders (haha)!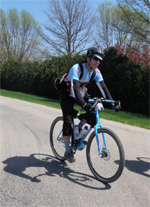 Congratulations Matt Wills!
Matt finished TransIowa V5, a 320 mile gravel road race in 32 hours a few weeks ago on his Holy Roller singlespeed. This is Matt's second time finishing TransIowa. You can read more about Matt's TiV5 experience on the Soulcraft Blog

Photo by Cornbread

Just got an e-mail concerning the opening of some legal singletrack in Marin. Around here, legal singletrack for bikes is a big deal, and the more people who weigh in on this the better. Check out IMBA's website for details on how you can help.

The Bi-annual ABC rides are happening soon. For those not in the know, these rides are designed to locate trash via GPS along side Sonoma County back roads, which will be picked up later by the county. The rides are slow paced with a fair amount of stopping so hopefully no one will be left for dead, and if they are, the group will do them the courtesy of telling the county where they can retrieve the corpse. The two rides are happening May 16 and June 13.

Up at Howarth Park in Santa Rosa, the city's mountain bike program is in full swing. The kid's MTB classes have started and will continue through August. Ages 6-13 welcome. Go here for more info. Also at Howarth, the summer dirt crits are about to start, so make sure you've been practicing inhaling massive amounts of dust while breathing hard. All the details are here.

The talk around town is that the Sonoma County Velo Project has obtained land for a bike park in Santa Rosa. We're talking a velodrome, pump track, criterium course, trails, and then some. They need support and volunteers so check them out and get with the program.


---
Soulcraft | PO Box 2631 | Petaluma CA 94953 | www.soulcraftbikes.com | 707-775-2453

Unable to view this newsletter? Click here to view the online version.

No longer interested in receiving Soulcraft's email newsletter, Here Comes The Corn?
Send an email to info@soulcraftbikes.com with "UNSUBSCRIBE" in the subject.

Copyright © 2009 Soulcraft Bikes